John D LeBaron is an expert modeller and student of Marx toy trains. He rescues damaged and incomplete locomotives and rolling stock to make custom creations in new liveries with colors and graphics that are also of his own creation. He shares his work on Facebook and has created a Group there named: "Custom Marx Trains."

This page shows some of his recent work to help us all recognize the motor variations produced by Marx for their E7 locomotive.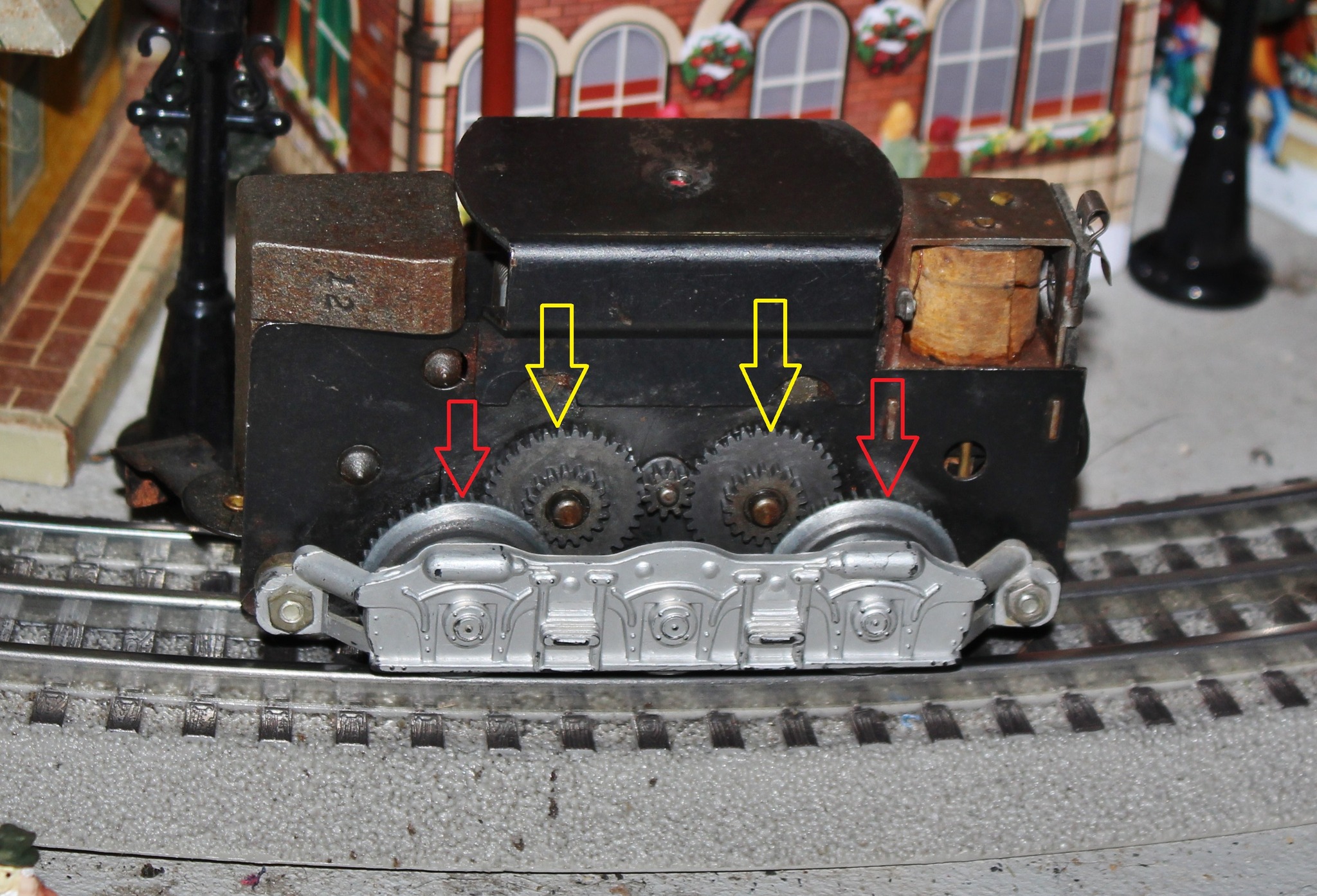 Photo 1 – Earliest Version, gear side

Photo 1 shows the oldest version which was very similar to the Marx 21 diesel, large intermediate gears and gearing on the flanges.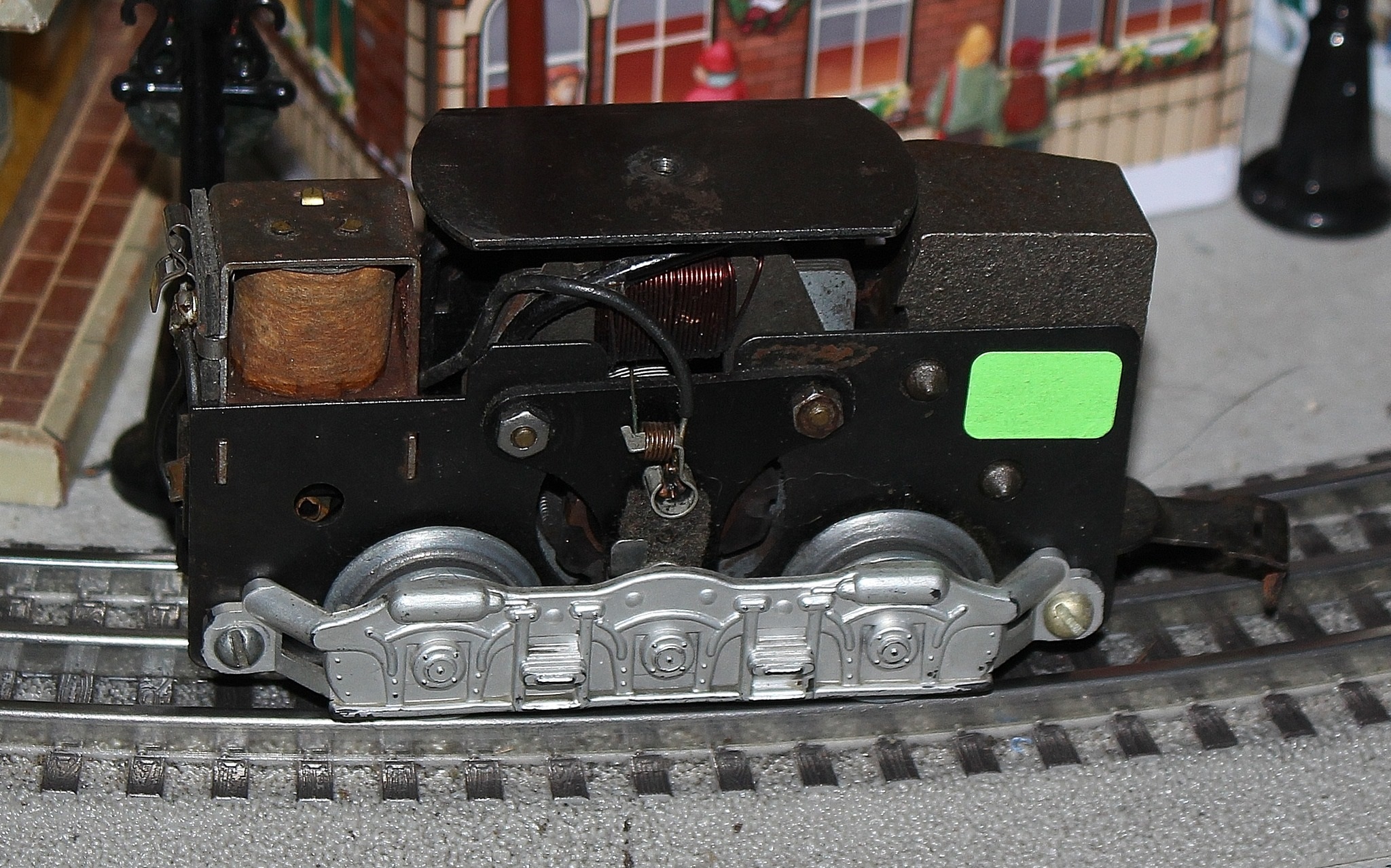 Photo 2 – Brush side

Photo 2 Like the Marx 21 the brush plate has the small piece of felt/sponge and no brass bushing.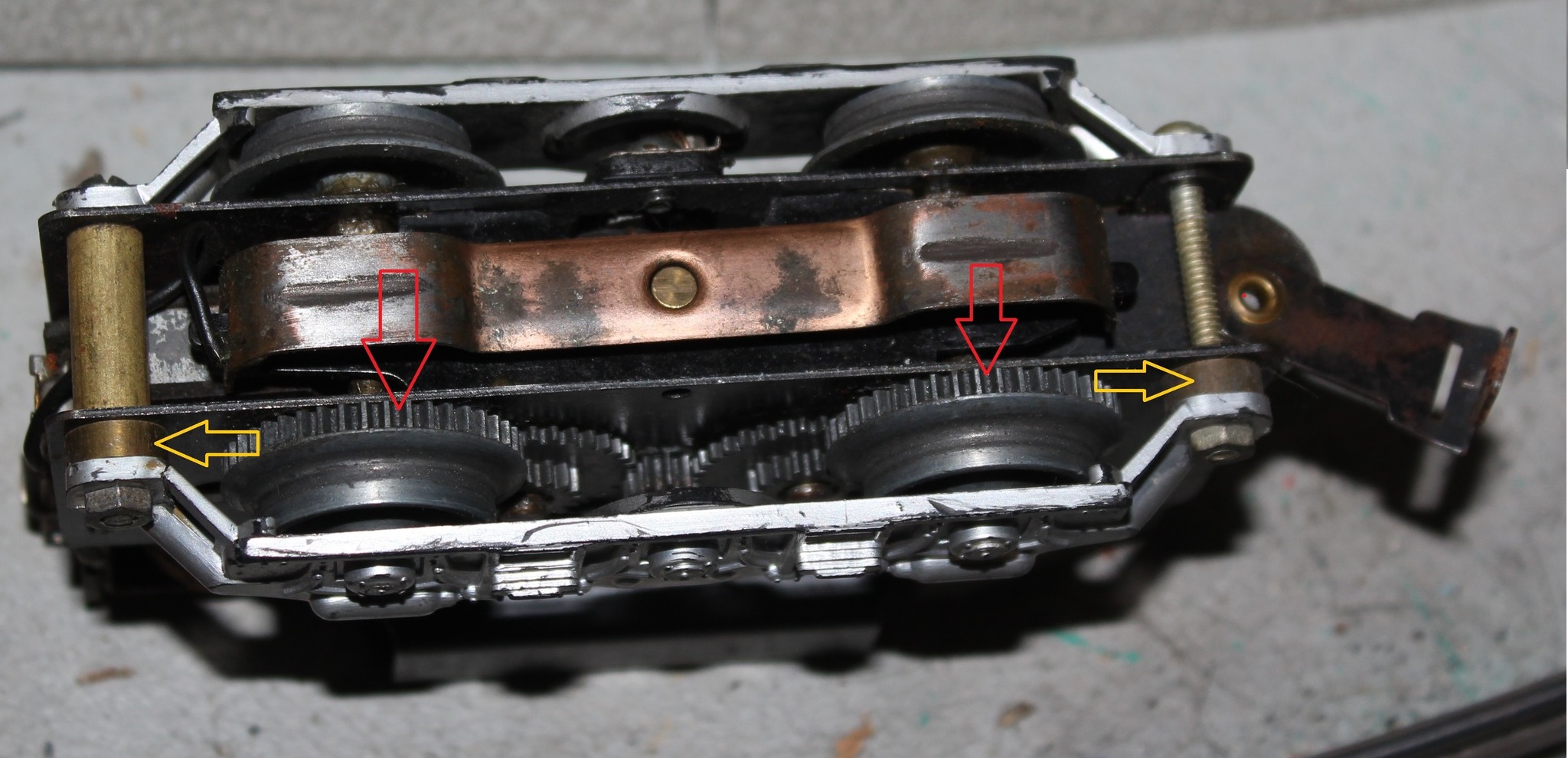 Photo 3 – Bottom

Photo 3 The red arrows indicate gearing on the flanges (like the Marx 21) also there are 2 brass spacers for the truck cover on the geared side.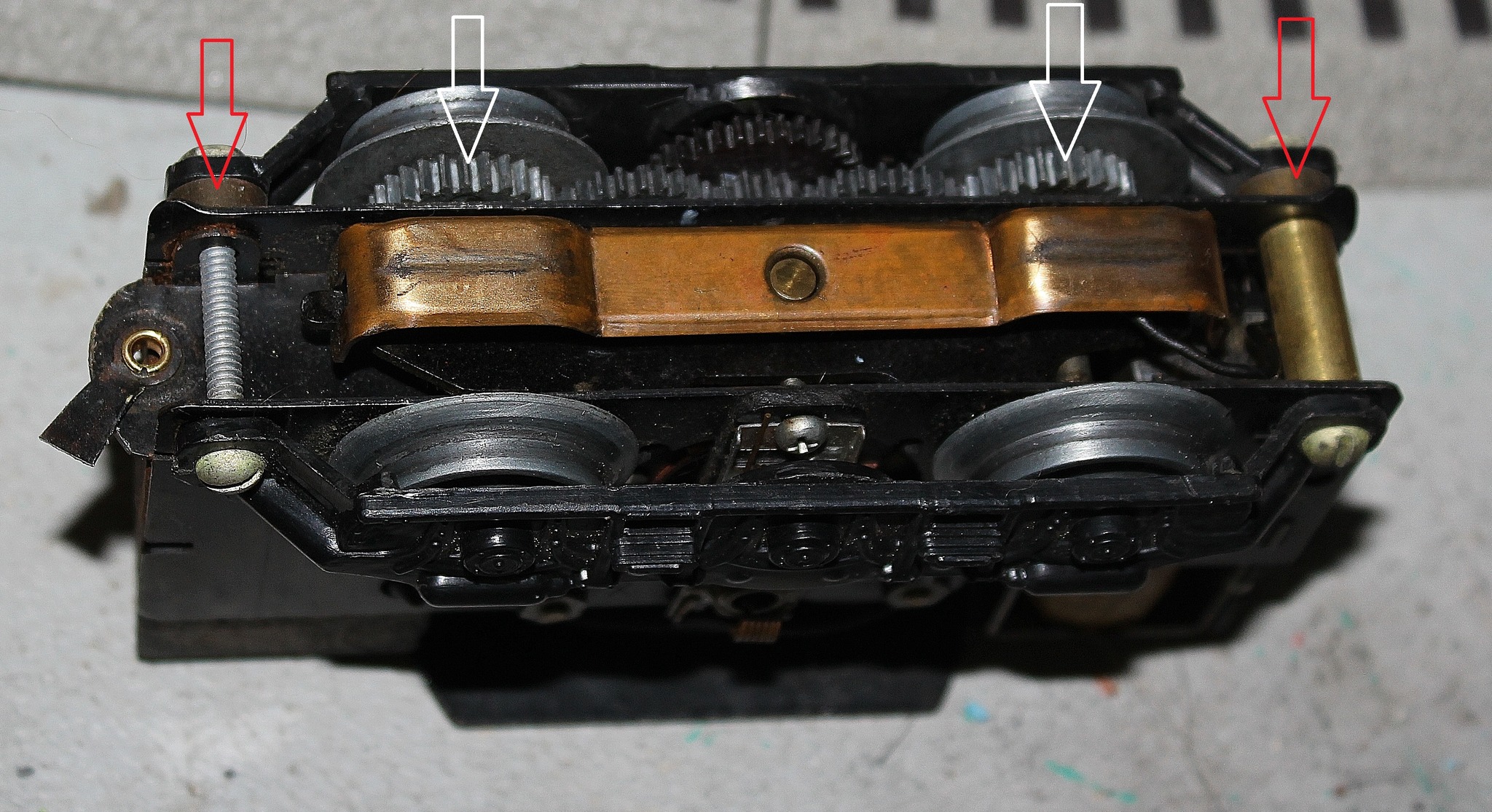 Photo 5 – Second Generation

Photo 5 The second generation motor also has a brass bushing on the brush plate.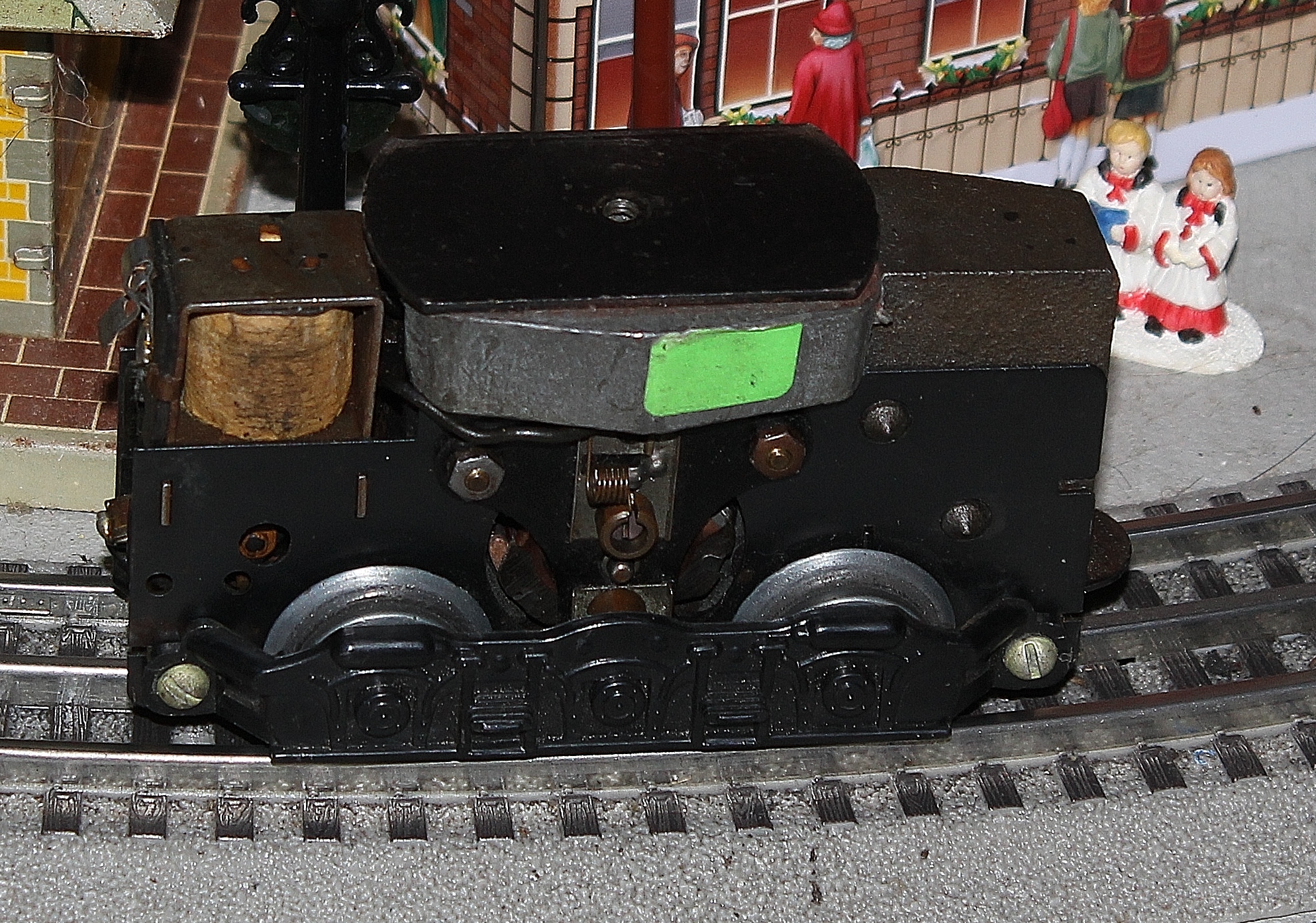 Photo 6 – Early Power Pull

Photo 6 Early power pull version was pretty much the same as the second generation except Marx added traction tires and a large weight (green sticker) in the center.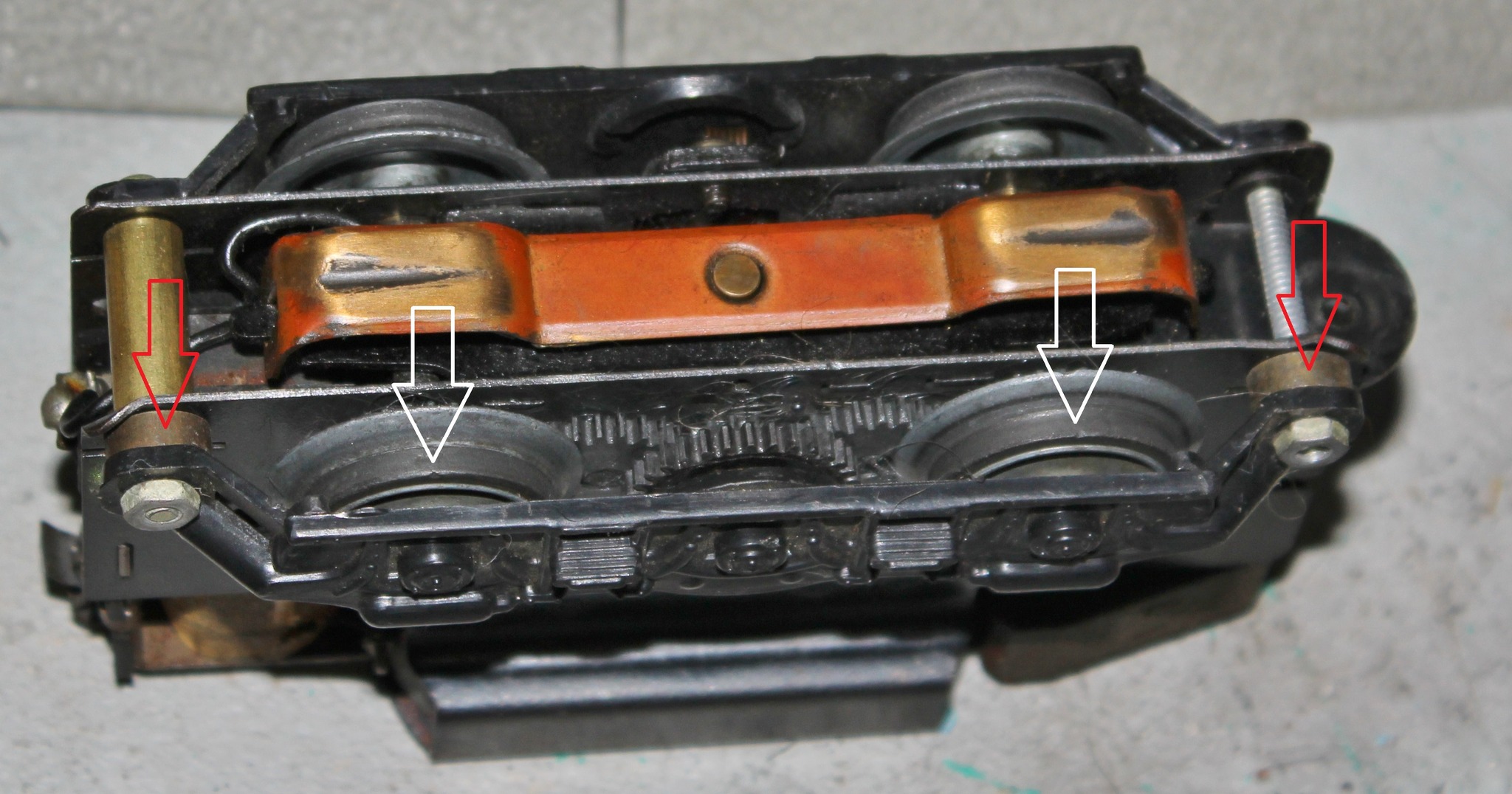 Photo 7 – Power Pull Underside

Photo 7 Brass spacers for the geared side truck cover (red arrows) and traction tires on the geared side wheels (white arrows). This was the heaviest version and best puller.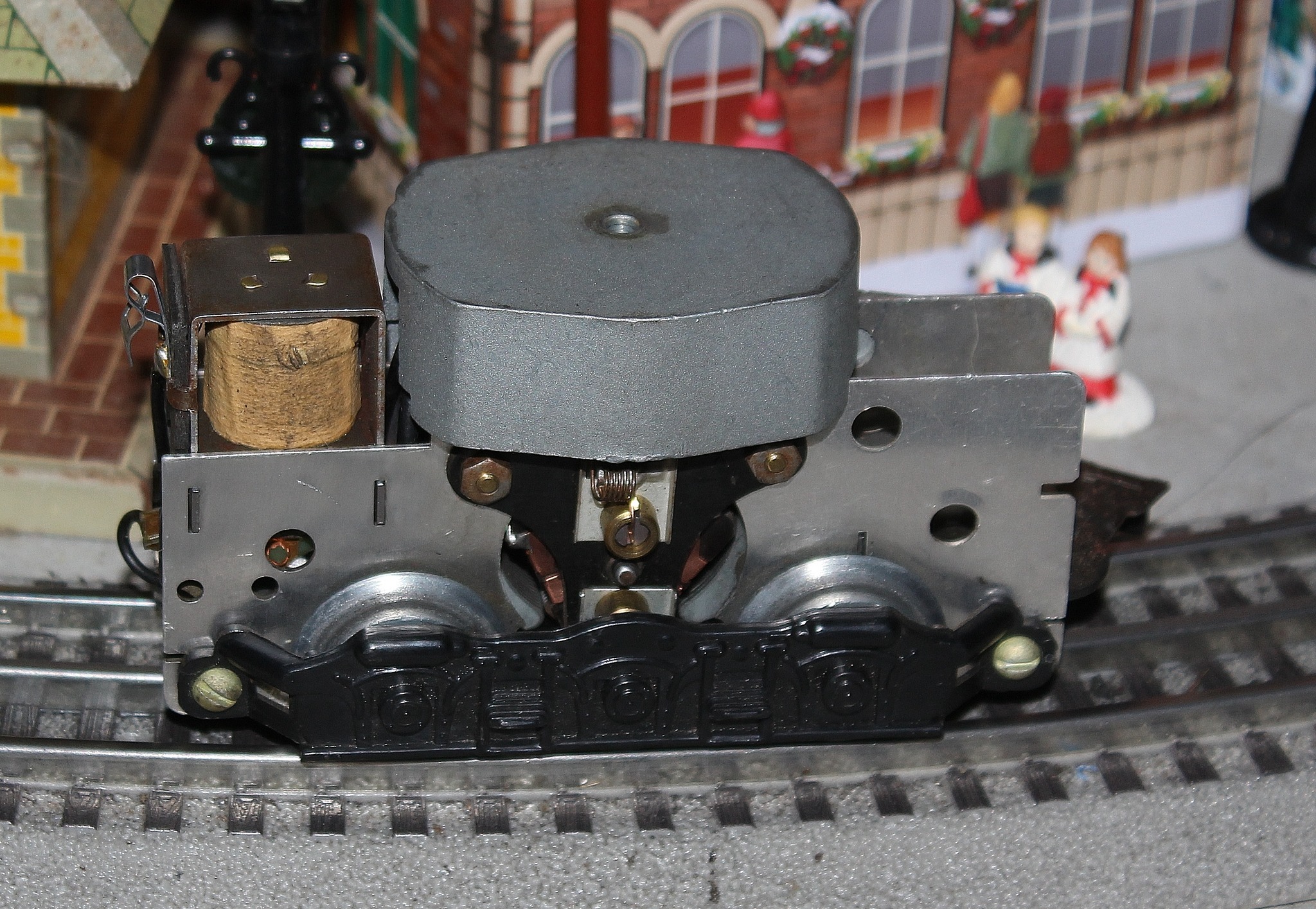 Photo 8 – Final Power Pull

Photo 8 The final version Power pull motor. Rear weight was removed (though the holes for it are still in the plates) and replaced with a single large weight. Also, Marx switched from steel to using aluminum for side plates on the power pull motor to improve it's efficiency along with the nylon bushing and brush plate.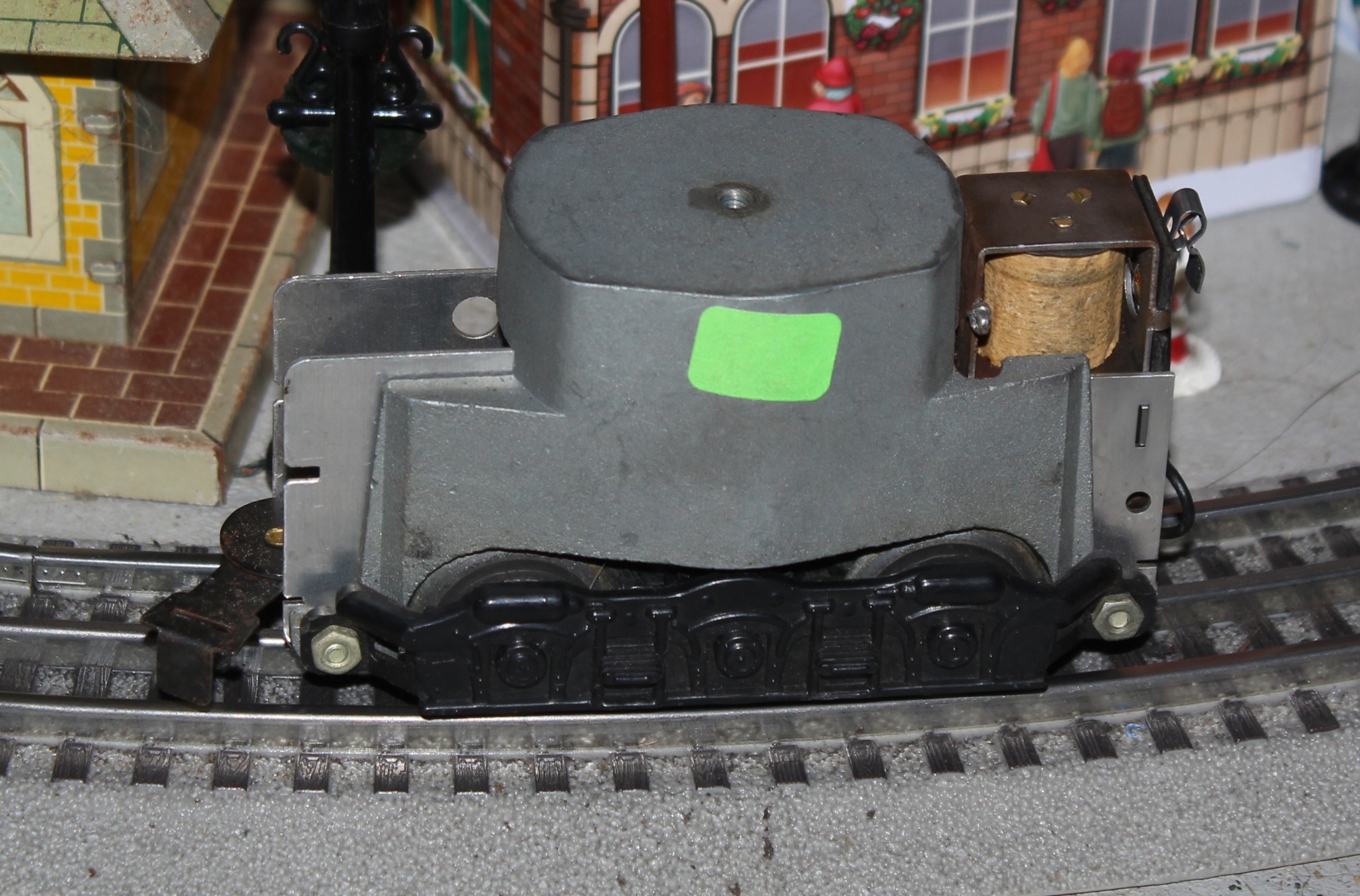 Photo 9 – Gear Side

Photo 9 The armature on the geared side has a nylon bushing rather than the small brass bushing.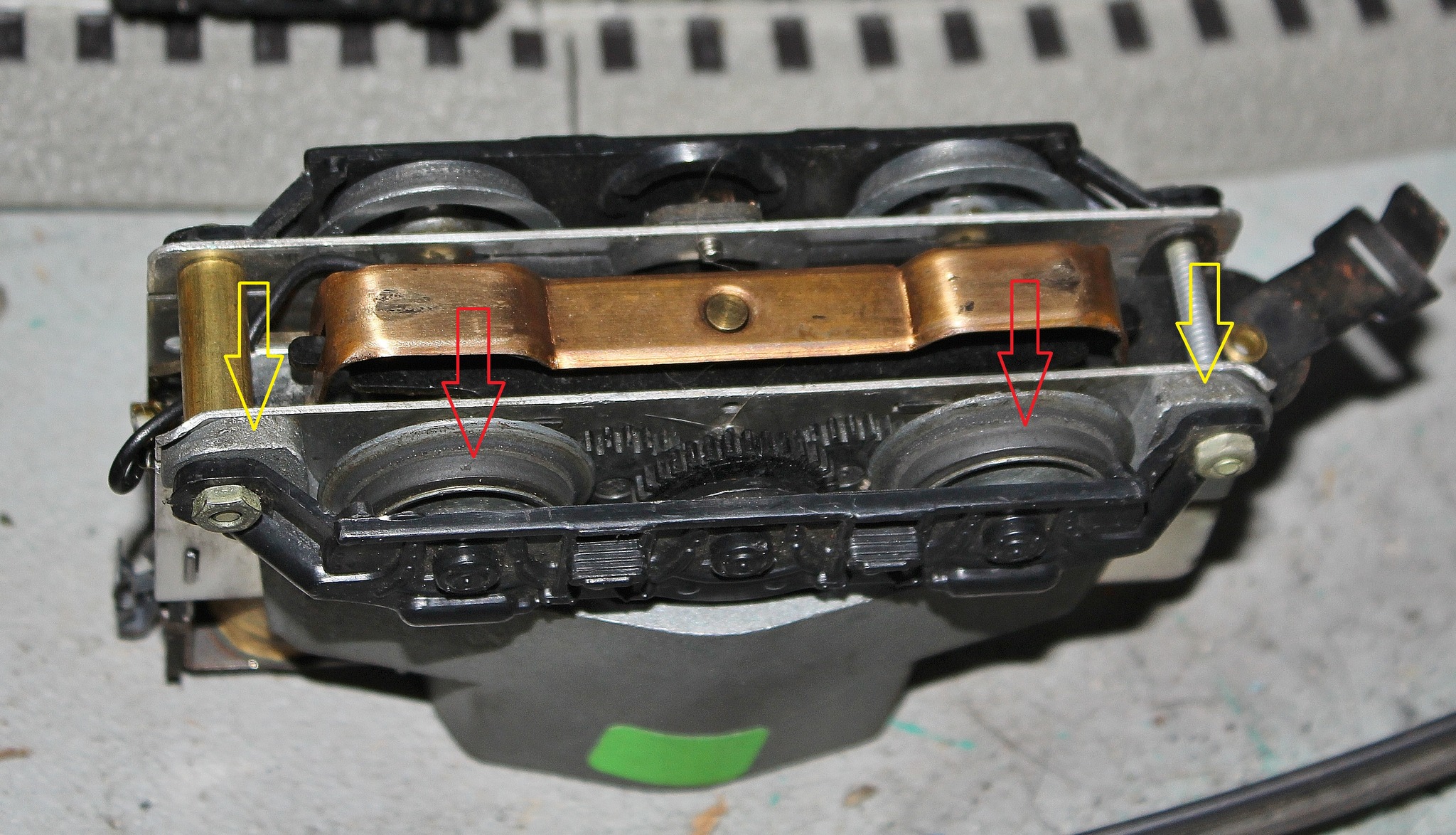 Photo 10 – Underside

Photo 10 There are no brass spacers for the truck cover, instead there are extensions from the large weight that act as spacers (yellow arrows) Also has traction tires and is the best performer.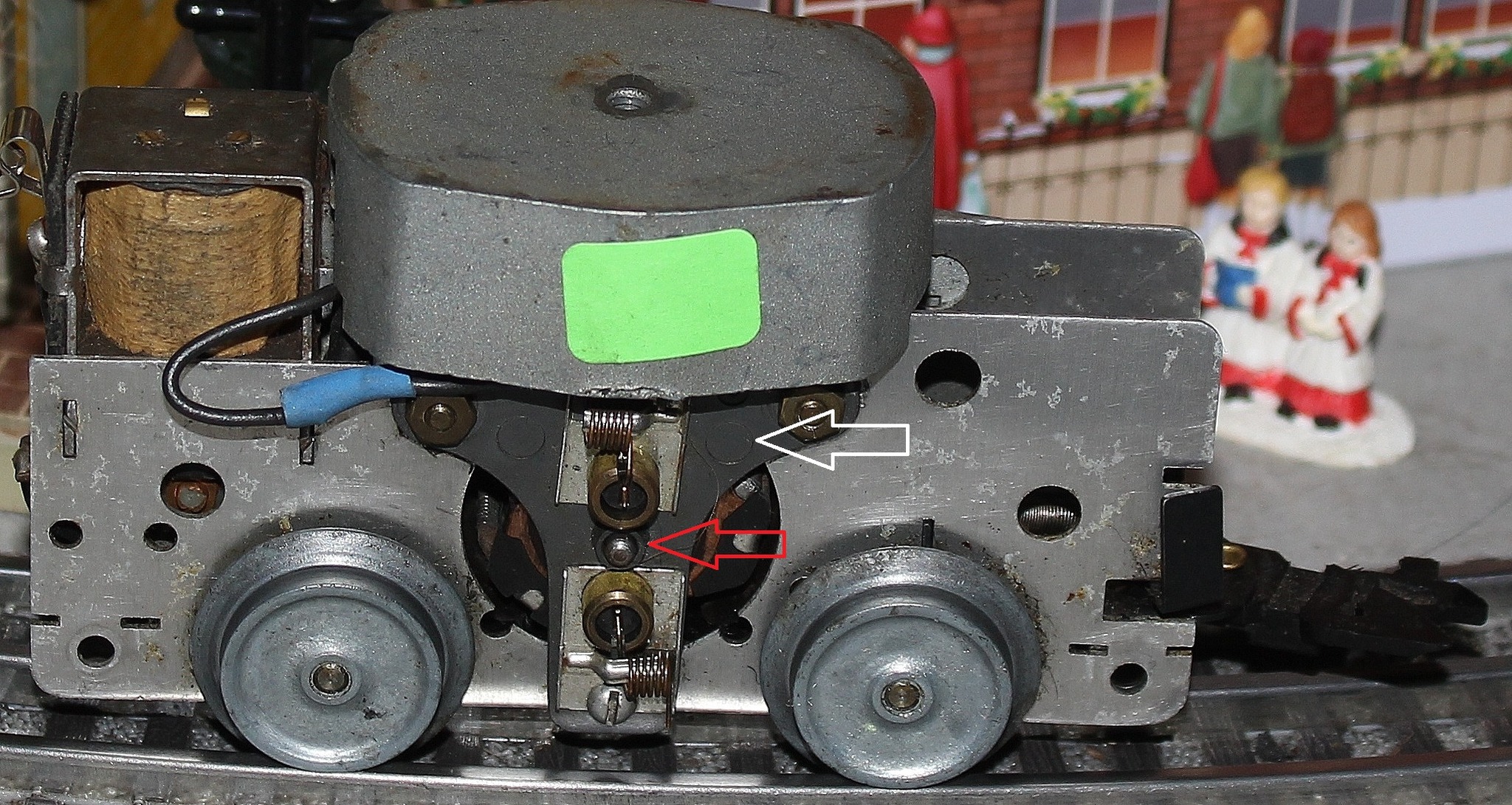 Photo 11 – Last Version

Photo 11 The last version has a nylon brush plate (no brass bushing). The white arrow points to the molded "circle" that easily distinguishes this as a nylon brush plate, the older style has an "X" there. Also note the scissor type coupler indicating this motor was from a set that had powered unit only.